By: Dr. Ariel Ross, PT, DPT, E-RYT 200, YACEP and Kevin Chavez, PTA
COVID 19 has definitely changed everyone's ideals of work life balance. As a society we are sitting now more than ever. Neck pain is a common condition that can occur due to a sedentary lifestyle. At ARSO, we see many of our patients coming in with neck pain due to poor ergonomic and biomechanical set-ups at their desks. In this blog, we'll talk about some ways to prevent neck pain during the pandemic and what to do if you have an episode of neck pain.
So what is neck pain and what causes it?
Neck pain can be dull, achy, sharp, or boring pain that is in the muscles at the top of where the head and neck meet and can go all the way into your shoulders.
How can physical therapy help?
A physical therapist is an expert in ergonomics and movement. They can help you with your desk setup, help identify muscle weakness that may be causing your pain, give you exercises to improve your range of motion and posture, apply modalities to help break the acute pain cycle, and use manual therapy techniques to address any restrictions in your joints.
How should you set up your desk to prevent neck pain?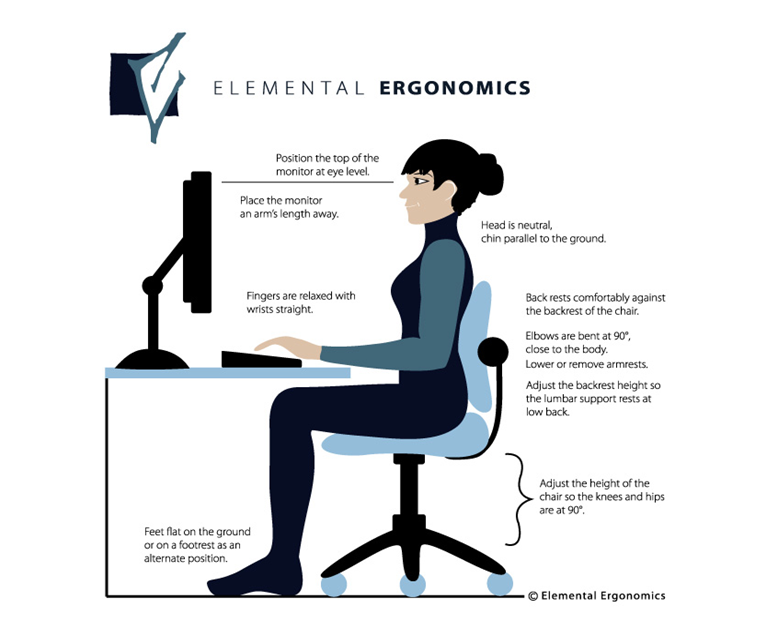 What to do if you have neck pain?
Do not panic. Pain does not necessarily mean that something is structurally wrong or "out of place".
Please give us a call to schedule an appointment. We are currently offering both in-person and telehealth appointments. Maryland is a Direct Access state, so a physician's referral is not necessary for an initial evaluation.
Seek immediate emergency care:

If your neck pain is 10/10 with pain into your arms

If you have neck pain and dizziness, lightheadedness, double vision, trouble swallowing, nausea, or episodes of fainting.

If you have neck and sudden clumsiness in your feet